FOOTER BUILDING
A Cumberland Landmark
Recognizing a diamond in the rough, Footer Building Development LLC has taken on the hefty project of restoring the Footer Dye Works Building to its original charm. Preserving the original brick and Terra Cotta tiled roof, and transforming an abandoned industrial space into unique residential lofts and impressive commercial spaces.
FOOTER BUILDING
Available Spaces
FOOTER BUILDING
A Rich History
The Footer Building was the home to Footer's Dye Works and is the last of a large complex of industrial buildings which were constructed in the first decade of the 20th century.  The Footer Building itself was built in 1906 and is an important remnant of Cumberland's industrial heritage.
Throughout the 1920's Footer's Dye Works was one of the dominant cleaning and dyeing establishments in the mid-Atlantic region, with major branch offices located in Baltimore, Philadelphia, and Pittsburgh.  At it's peak, Footer's employed as many as 500 people and named the White House among its many clients.
FOOTER BUILDING
A Remarkable Future
In early 2015, Footer Building Development, LLC revealed some exciting plans for the Footer Dye Works Building!
The building will become a mixed-use building, which will include a brewpub, restaurant space and luxury loft apartments.
FOOTER BUILDING
Development Team
The redevelopment team, Footer Building Development, LLC, is a joint venture between Mike Joy of Joy Development, Erik Wishneff of Brian Wishneff & Associates and Bruce Firlie of JLD Construction.
Michael Joy & Joy Development has over three decades of experience in the mid-Atlantic states developing and building successful residential communities. From urban redevelopment to spacious luxury homes, Joy Development has been a pioneer in both transforming communities and preserving the structures that define the rich histories of those communities including historic mixed-use buildings in both Cumberland and Frostburg, Maryland.
Brian Wishneff & Associates is a boutique tax credit financing and real estate development consulting firm that specializes in helping facilitate projects that are seeking to utilize tax credits and a variety of other funding sources. They have been involved in over $2 billion of development including $500M of tax credit equity investments. Started in 1995 and led by Brian Wishneff who has over 30 years of real estate, finance and economic development experience, they have facilitated investments through a variety of tax credit programs including Federal and State historic tax credits, Federal and State new markets tax credits,  and renewable energy tax credits among others. BW&A specializes in tax credit syndication, the process of monetizing tax credits, and downtown project development and consulting.
Bruce Firlie, JLD Construction, is a Cumberland native, resident, and a general contractor. Recent projects include the Chessie Credit Union Building in LaVale and the Department of Juvenile Services Regional Headquarters in Cumberland. He was also  the  general contractor for the Liberty Street Lofts in Cumberland and the Lyric Building in Frostburg.
On October 18, the staff of the Maryland Historical Trust - Office of Preservation Services traveled to Cumberland to tour the Footer Building. Pictured in the photo from left to right are: Megan Klem - [...]
The walls of the Luxury Loft Apartments on the second, third and fourth floors of the Footer Building are taking shape as new drywall is being installed.
Local plumbers have been hard at work installing new plumbing throughout the new luxury loft apartments.
NEARBY
Attractions & Activities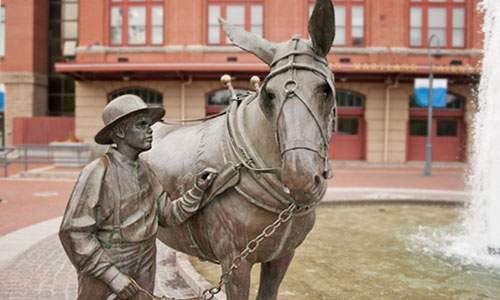 The Crossroads of Transportation – This heritage area highlights the C&O Canal Terminus, Historic National Road and Western Maryland's Railroading History.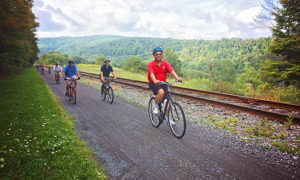 Complete from Pittsburgh to Cumberland, MD, the 150-mile Great Allegheny Passage connects with the 184.5-mile C&O Canal Towpath to create a 335-mile non-motorized route between Pittsburgh and Washington, DC.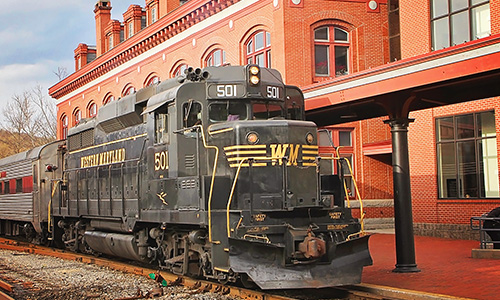 Departing from a 1913 railway station, this exciting attraction offers scenic excursions, dinner trains and more!